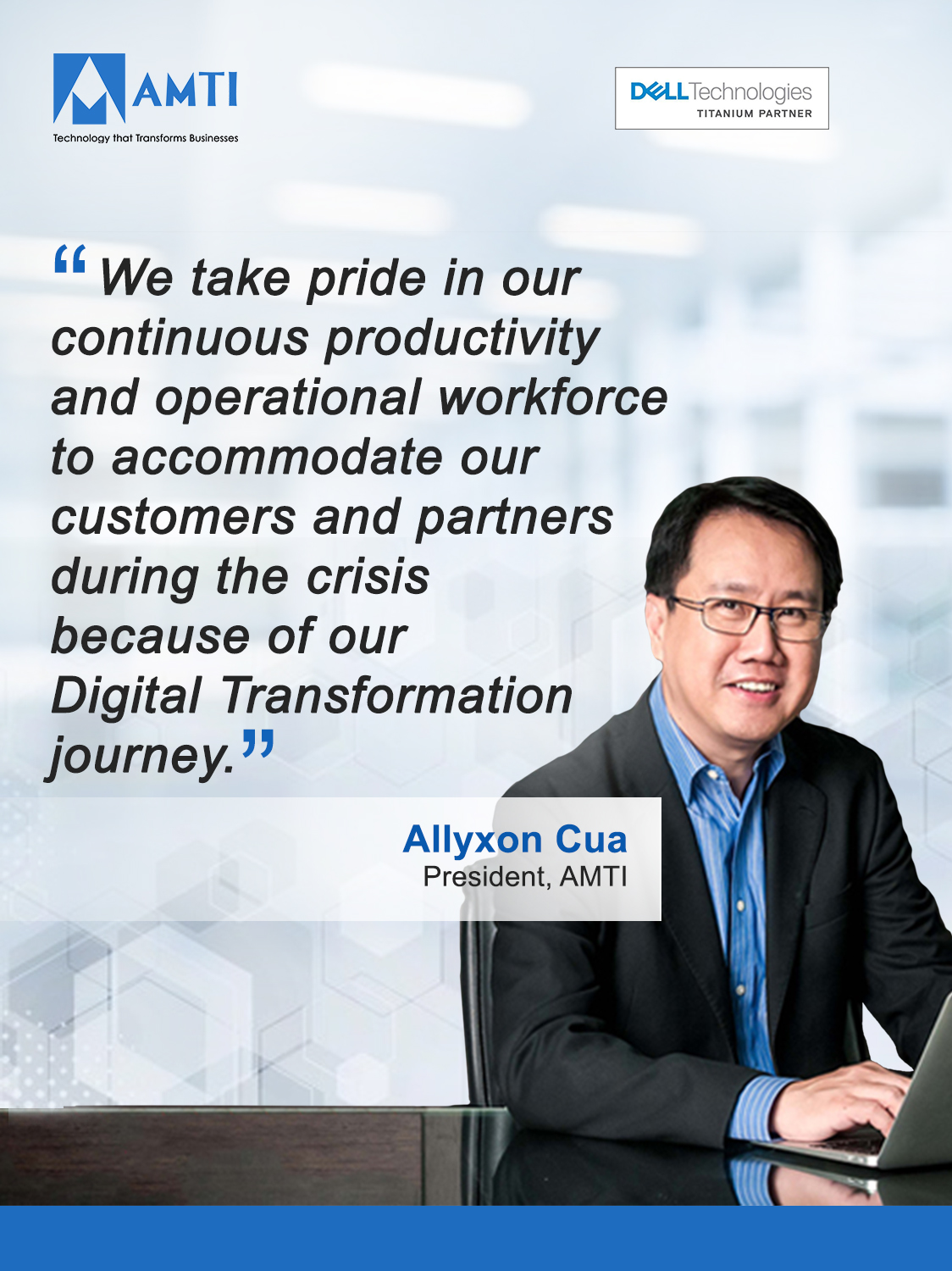 Business experts all over the world are all united in declaring that this pandemic, together with the quarantine lockdown, has been the biggest single factor that has disrupted and put businesses (of all sizes) in a quandary. It became the destroyer of time-honored business fundamentals and legacy workflow systems.  As such today, you see companies scrambling for their business life, trying to swim against a tidal wave of changes.  However, amidst the sea of chaos and uncertainty, there are also a few companies floating and swimming efficiently in the water. These companies are not only surviving but are flourishing in this environment. One of these companies is AMTI, a more than two-decade-old organization and one of the biggest and most diversified ICT companies in the Philippines.  What makes AMTI unique and successful? What allows them to continuously operate like it is business as usual without compromising the health and safety of their employees, while competitors choose to hide and brace for the worst?
The answer dates back almost two years ago when Dell Technologies, the world's biggest technology company and AMTI's longtime technology partner, challenged Mr. Allyxon Cua, AMTI's President, to assemble a core team of executives to take part in the Digital Transformation Journey. Mr. Cua quickly assembled his Digital Transformation core team composed of Stanley Yu (SVP, Finance), Whilma Cua (SVP, HR and Admin), and Bong Paloma (SVP/GM, CTO). Back then, Digital Transformation was just another buzzword.  Although fundamentally sound, most business owners and executives did not foresee the urgency to adopt it into their business strategies until came the global health crisis we experience today. But AMTI, without hesitation, went ahead and made the investment – both in time and money – and joined discussions by diverse and experienced sets of experts from Dell Technologies in Singapore, which was followed by a series of tech updates and follow-up meetings in the Philippines.
AMTI's Digital Transformation journey started with Workforce Transformation. Such a decision was made in response to the worsening traffic situation in Manila, which lessened its workforce's customer time as they needed to take an average of 3-4 hours of travel time every day.  This particular situation was definitely taking a toll on the health of its workforce. Mr. Cua did not waste time, he immediately augmented his core team by building what he called the AMTI-DX team. The team toiled tirelessly to build the blueprint of a workforce transformation road map and immediately set it into motion.
▪   Breaking and building a new mindset on what is Work-From-home for both employees and managers.
– For employees: How do you work from home? How do you manage your time between family and office?
– For Managers: How do you manage and measure the productivity of people? How do you set criteria between work from home and work onsite arrangements?
     There is a big paradigm shift in how you measure performance and how you manage your distributed workforce.
▪    Redesigning their workflow system, their method and the chain of approval hierarchy were transitioned from manual to digital. Their core back-end, CRM and email systems were moved to the cloud.
▪   Worked with trade suppliers and banks to do digital transactions.
▪   Modernized its IT infrastructure – Servers, Storage, Network and Security
▪   Reinforced its cyber security posture to secure local and remote connections
▪   Strengthened its unified communications system and made an investment in collaboration tools/software to facilitate (regardless of location) PSTN & mobile calling, online video calls and meetings.
Their early journey into the Digital Transformation earned them a lot of knowledge and learnings that ultimately helped them become an effective and trusted IT advisor to their customers. It also paved the way for AMTI to becoming a true innovator and an ICT Technology enabler.
During the COVID-19 pandemic, the Philippine Government had to intervene to control the spread of the deadly corona virus and declared the Enhanced Community Quarantine (ECQ) measure in the entire Luzon. The abrupt declaration of the ECQ resulted in a pent-up demand in mobile computing devices and security to equip thousands of the workforce locked in their homes. As the government guidelines of the ECQ became more restrictive, non-essential industries were on lock down mode and there was a lot of confusion. Offices, warehouses, and hotels were not allowed to open except for a few essentials business sectors such as selected government agencies, telcos, utility companies, banks, supermarkets and food delivery services. So, how did AMTI manage to operate and service the requirements of these essential sectors amidst the chaos and confusion created by the pandemic?
On the day the ECQ was put into effect, Mr. Cua was faced with a dilemma – will he completely stop operation and implement a no-work no-pay scheme, hide and brace for the worst just like what most companies did? Knowing that he had a responsibility to his employees, customers and stockholders, he knew that hiding was not an option. He also knew that they have prepared for any eventualities because their Digital Workspace or Workforce Transformation initiative is already in full swing and working like a well-oiled machine. He immediately organized his leadership team and rallied his resilient and passionate workforce and declared that they will stay operational and will use their early investment in digital transformation to carry out a business-as-usual activity to respond to the urgent and immediate needs of their customers. The systems that they have put in place were stress-tested during the ECQ and have been proven to have worked. Surprisingly, it was not business-as-usual. The business was unusual because the amount of business that came in was more than their average – it was a record month for AMTI. Their ability to stay open until today and operate end-to-end as a company enabled them to capture the surge in business demand from old and new customers from the essential sectors during the ECQ. As a result, AMTI earned a lot of long-term goodwill and credibility from its customers because they delivered and served them even during these trying times. They were prepared, ready and able to ride the wave.
And because of all these, AMTI is surely grateful for Dell Technologies' challenge to take part in the Digital Transformation journey. Without taking that chance, AMTI's business may not have survived the global health crisis today. So, if you are a company looking for someone to help you with this very challenging and confusing time, contact AMTI. Because at AMTI, they WALK the TALK.
For inquiries on Digital Transformation / Workforce Transformation needs, you may email AMTI at inquiries@amti.com.ph.
Read the related article from Business World.
---
AMTI helps businesses in their workforce transformation journey through its Digital Transformation collaborative consulting to identify the gaps, architecture, technology and various steps and processes to deliver the desired business outcomes.